Eisbergsuche© – all drug information with one click
The pharmaceutical search engine supplied by DACON
The Eisbergsuche is a module which does intelligent research on pharmaceutical information.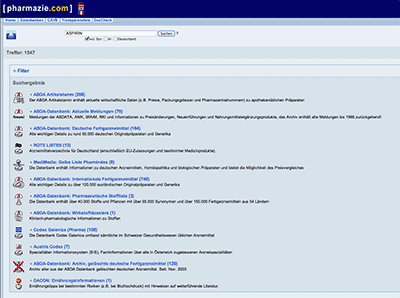 Upon entering a search term, you receive a number of suitable matching groups as a result which can be filtered according to application criteria, such as country, pharmaceutical dosage form or pharmaceutical manufacturer- we call this "multidimensional". Also, you may use established search terms from common search engines such as "", +, -, etc. in the Eisbergsuche®. Of special interest is the possibility to search for equivalents, semantic variations, similarities, analogies in language and content. Even mistakes in writing or singular or plural search entries result in a "Did you mean" note in correct search results.

Upon entering a search term, you are offered different options of filtering. Then you can differentiate between the different databases in detail. This research is license free and accessible from every page on [pharmazie.com]. For the final display of the desired search results we offer license free databases as well as databases that require a license.